Skin Peels
Peels involve the careful application of a chemical exfoliant to the top layer of the skin for the removal of superficial lesions and blemishes as well as improving the texture and radiance of the skin.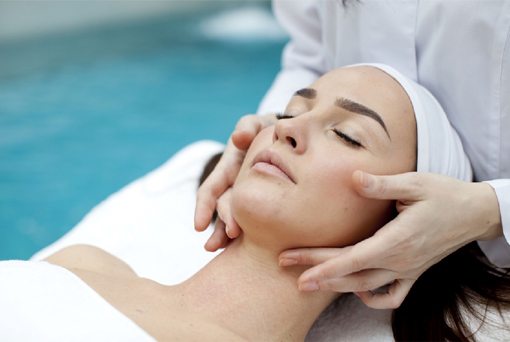 Are peels right for you?
We do not recommend peels during pregnancy or whilst breast feeding. They should not be combined with chemical peels or laser treatment. Recent scarring, depilation (hair removal) and sun burn and retinol products also make a reaction likely so we do not recommend use of peels in these situations.
Side effects include redness and irritation, these are usually mild and last just a few days so we recommend delaying a peel if you have an important social event.
At Belle Vue we analyse your skin and recommend the peel most appropriate for your skin type. We use a number of different peels, but most commonly one of the following.
We recommend that to get the best results it is essential that your skin is correctly prepared before performing the peel to ensure the best result is obtained and reduce the risk of side effects.
Treatments
Following your asessment we will be able to advise which peels (alone or in combination) will achieve the best result for you. We have detailed some of the peels we use below.
Glow Peel (Alumier)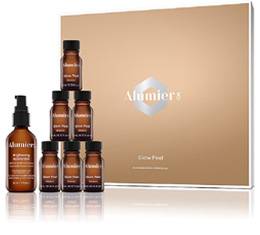 (Dry, Normal, Oily, Dehydrated, Acne, Hyperpigmentation & Ageing)
Glow Peel combines lactic acid, salicylic acid and resorcinol, creating a multipurpose resurfacing solution effective in minimizing the appearance of fine lines, wrinkles and hyperpigmentation issues like age spots, discolouration and uneven skin tone. This formula exfoliates dead skin cells and stimulates cell renewal. To suit individual needs, Glow Peel can be customized by strength by numbers of layers.
When used alone we use the following basic treatment plan adapted for your skin type:
Pre-consultation and face mapping using Visia Skin analysis system.
Two weeks pre-treatment with a suitable Alumier home products as advised following individual assessment.
Treatment in the clinic consists of cleaning the skin with Alumier purifying cleansing gel and then applying Balancing solution followed by the Glo-Peel, which is left on for a few minutes. A stinging sensation may be felt before it is removed.
The peel is a self-neutralising peel so does not need removing.
The Brightening accelerator is next applied followed by recovery balm and a suitable sun screen.
The skin should not be washed for eight hours.
We will supply Alumier products which suit your skin type to ensure you achieve the maximum benefit with proper healing.

Repeating the treatment 4 - 6 times at monthly intervals is recommended for getting the best results.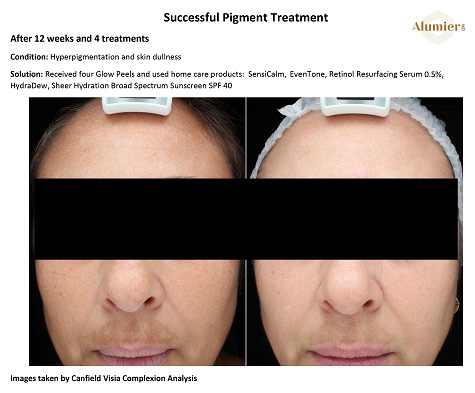 Vitamin A Boost (Alumier)
(Acne, hyperpigmentation & Ageing)
Vitamin A boost is a potent and pure retinol and lactic acid resurfacing treatment. It reduces the appearance of fine lines, wrinkles and hyperpigmentation by boosting collagen production and speeding cell turnover, creating a more radiant and even-toned complexion. Ideal for mature or sun damaged skin.
Detox Clear (Alumier)
(Acne, Congestion)
Detox Clear contains salicylic acid and lactic acid for excellent pore penetration and exfoliation. Salicylic acid penetrates into the pore and exfoliates dead skin cells and excess sebum. Lactic acid exfoliates dead skin cells and hydrates. Eucalyptus provides strong astringent properties. Together, they work to smooth skin, minimise pore size experience, reduce acne and prevent new pimples from forming.
Radiant 20/10 (Alumier)
(Acne, hyperpigmentation, uneven skin tone, congestion, open pores & oiliness)
With lactic and salicylic acid, radiant 20/10 resurfacing peel contains a powerful combination of them both which improves skin tone and texture by exfoliating dead skin cells and speeding cell turnover. The multipurpose resurfacing peel reduces acne pimples and minimizes the appearance of fine lines and wrinkles, large pores, hyperpigmentation and sun damage.
Radiant 30 (Alumier)
(Hyperpigmentation, Uneven Skin tone, dull skin, line & wrinkles)
Radiant 30 is an alpha hydroxy acid resurfacing peel containing lactic acid to exfoliate dead skin cells. Boost cell turnover and stimulate collagen, improving skin texture and tone. This multifunctional peel targets multiple skin conditions, including fine lines and wrinkles, discoloration, sun damage and large pores.
AlumierMD Enzyme Treatment (Alumier)
Enzyme Retexturing Treatment is a highly effective fruit enzyme resurfacing solution. The unique blend of fruit enzymes exfoliates dead skin cells and promotes skin renewal. This unique experience also includes brightening enhancers, followed by targeted treatment serums to address each skin concern. The result is a reduction in the appearance of fine lines, wrinkles and hyperpigmentation, while soothing and maintaining hydration.