Dermaroller
What is the Dermaroller?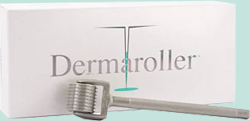 The Dermaroller is a sterile, single-use device that creates a fine needling of the skin to encourage skin renewal.
The multiple puncture wounds cause the release of growth factors that stimulate the production of collagen and elastin. This creates a healthy, youthful appearance; turning back the effects of time.
The changes also allow improved absorption and so increased benefit from any topical skin products (such as the cosmeceuticals in the Skinceutical range) you may be using.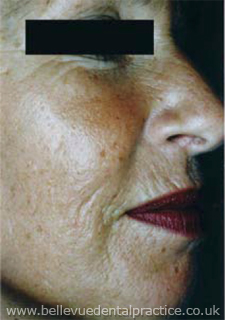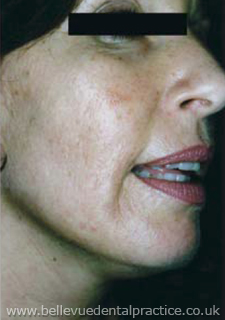 Aged skin with wrinkles and pigmentation 3 months after 1 Dermaroller™ procedure
What is the advantage of Dermaroller over other treatments?
It keeps the skin's epidermal barrier intact, unlike laser resurfacing and deep chemical peels. This avoids the risk of pain, sun damage, infection and very poor appearance while healing is taking place.
It is very economical compared to other treatments for the benefit obtained.
It is suitable for all skin types.
To achieve the results you desire it is important to use a Dermaroller with needles of the correct depth and quality.
Stimulating the collagen requires needling at a depth of 1.5 to 2.5 mm to penetrate into the dermis of the skin
Poor quality needles can damage the skin causing bruising and further scarring.
Many reports that this treatment is ineffective are due to use of poorer quality needling, at Belle Vue we only use Dermarollers that meet the highest standards to ensure you get the best results possible.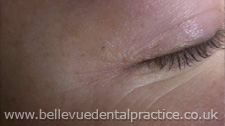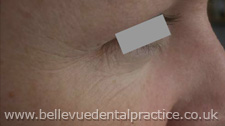 Dorsa of the hand wrinkles, laxity and pigmentation improvement after one Dermaroller™ procedure
Scars, including those from acne and chicken-pox
Open Pores
Fine Lines, Wrinkles, Folds and Crow's feet
Sun Damage and Hyperpigmentation.
Stretch Marks
Poor Skin Texture and Radiance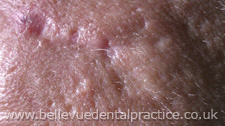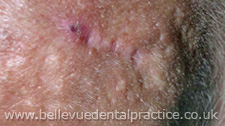 Acne scaring improvement after one Dermaroller™ procedure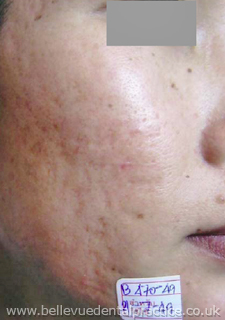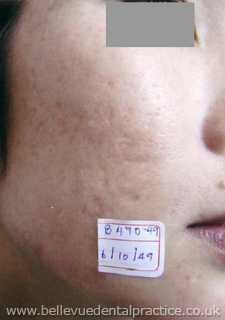 Pigmentation & acne scar problems Dermaroller™ MF8
At Belle Vue we can treat:
in fact we can treat virtually any area of the body.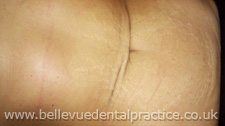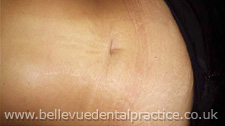 Striae 2 months after Dermaroller™ MS4 procedure
Who is not suitable for the Dermaroller?
Patients with a bleeding disorder due to illness or medication
Active Acne
Uncontrolled Diabetes
Active Skin Infection
Reduced Healing due to illness or medication (e.g corticosteroids and chemotherapy)
Pregnancy or Breast Feeding
Skin Cancer
A history of keloid scars
Infections such as Hepatitis or HIV
Treatment
Pre-consultation and Face Mapping using the Visia Skin Analysis System.
Two to Four weeks pre-treatment with a good antioxidant e.g. SkinCeutical Serun 10 or Phoretin with a sun-block during the day a topical retinol and moisturiser at night. Although not essential this pre-treatment improves the results obtained.
A depigmentation cream is also applied if the problem is hyperpigmentation or you have a tendency to develop this.
Treatment in the clinic commences with cleansing the skin and applying a powerful topical anaesthetic which is left on tfor 30 minutes to take effect and make the procedure comfortable.
The anaesthetic cream is removed and the skin is cleansed with a topical antibacterial wash.
The Dermaroller is applied in different directions across the treatment area
Before leaving the clinic Chiroxy cream is massaged over the area to soothe and calm the skin followed by sun-block.
We will also supply Chiroxy cream and siun-block to use for the few days after the treatment.
For the next few days the skin appears to be suffering from moderate sun-burn and may feel warmer and tighter than usual. During this time the face should be cleansed with tepid water, dried gently and infection avoided by cleaning your hands before touching the area and using a fresh towel each time.
Mineral make-up can be applied 12 hours after the treatment and other forms of make-up after a few days.
Review at Belle Vue after 4-6 weeks when the full benefit will be visible.
For some problems we recommend further treatments at six weekly intervals to obtain the full benefit of the Dermaroller e.g

| | |
| --- | --- |
| Stretch Marks | 3 to 5 treatments |
| Scars | up to 5 treatments |
| Rejuvenation | up to 3 treatments |
| Lines and Wrinkles | up to 3 treatments |
| Sun Damage | up to 3 treatments |

To maintain the benefit of Dermaroller treatment we will prepare a personalized regime of Cosmeceuticals according to your skin type. A single Dermaroller treatment may be required after a year to keep your skin at its best.